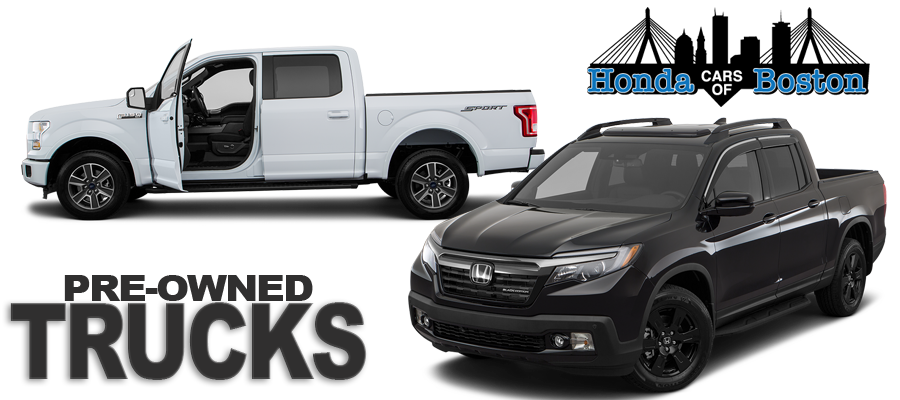 Pre-Owned Trucks for Sale near Everett, MA
Trucks can be used in plenty of ways - from cargo-hauling to family-carrying. For some, a truck needs to do all of these things. Many shoppers decide against purchasing a brand-new truck in favor of a used one for a much lower price. That's why we provide customers with a large selection of used trucks.
View our pre-owned truck selection in our online inventory. Our stock usually consists of regular cab, double cab, and crew cab models. If you don't see what you're looking for, reach out so we can help. We're happy to search the area for you and try to secure the truck you've always wanted.
If you do find what you're looking for on our website, however, visit us to see it in person. Our helpful employees will gladly show you around and let you take a test drive. We look forward to seeing you soon at Honda Cars Boston.
Buy Used Trucks in Massachusetts
There's a lot of misinformation when it comes to purchasing a used vehicle. If you think it isn't possible to purchase a reliable, low-priced used truck, then think again. To ensure top quality, our staff members rigorously inspect each truck. Before we list a truck on our site, we make sure that any problems have been fixed and that it is in great working condition. As always, your safety is our priority.
Contact us today if you have any questions. Our sales associates will happily assist you in any way.
Honda Cars Boston: Truck Service & Maintenance Centers
In order to have a long and healthy life for your truck, you'll need to give it the top-quality maintenance it deserves. At Honda Cars of Boston, we can provide this for you. If you're in need of new tires, an oil change, or new brakes, we've got you covered.
But that's not all.
What if you want more for your truck? Maybe spruce things up a bit? We can help you accessorize your ride with fun features such as a wireless phone charger, roof rack, truck tray, and more. Ask our associates for more details.
At our dealership, we don't believe in customers paying an arm and a leg for service. That's why we offer service specials and parts specials for shoppers. With so many ways to save, you'll find routine maintenance a breeze.
Our service department offers top-quality maintenance and repairs. Make your truck feel special by providing it with the service it deserves. Stop by our dealership today. We are conveniently located at 100 Broadway, Route 99, Everett, MA 02149-2415.